Thisrevolutionary new interactive treat game that will change the way your furry best friend plays forever! Designed with your pup's happiness and wellbeing in mind, WindingBall™ is the ultimate toy that your loved one simply can't resist.Watch as your dog's eyes light up with anticipation as they sniff out and uncover their favorite hidden treats.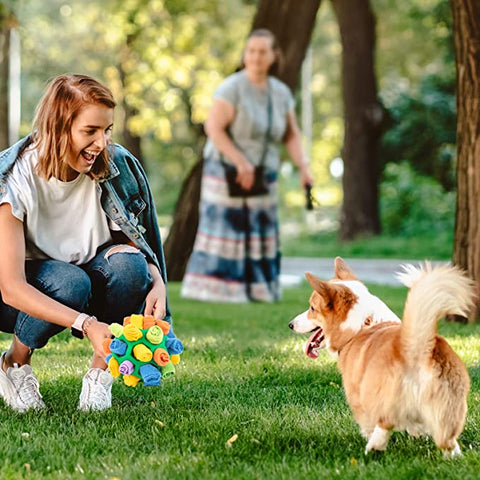 The Key To Your Dog's Happiness
Watching your dog excitedly sniff out and pull the fabrics to get to the treats will bring a huge smile to your face. Not only is WindingBall™ fun for your dog, but it also stimulates their minds, encouraging their natural problem-solving skills and sense of smell.

Playing with WindingBall™ is an excellent way to keep your dog mentally active, reducing the risk of boredom and destructive behavior.
Safe, Durable, and Easy to Clean
WindingBall™ is made of high-quality materials that are both safe and durable for your furry friend. You can be sure that this toy will last through even the toughest of playtimes, giving your pup the joy and excitement they crave.

With its convenient design, WindingBall™can be quickly and easily washed in the washing machine, making it a breeze to keep it fresh and clean for your furry friend.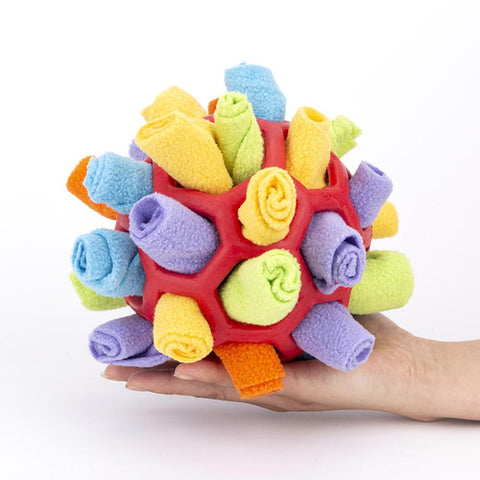 DETAILS
Interactive treat game
Suitable for small as well as large dogs (from a Yorkie to a Labrador to a Great Dane)
Mental stimulation for dogs
Reduces boredom and destructive behavior
Easy-to-clean design (Machine washable)
Size: approx. 20x20cm
* All orders are processed within 1-2 business days, our typical delivery frame 7-10 business days. Depending on your location, you may receive your item much earlier.
FAQs
Question: What size is the WindingBall™ Dog Treat Dispenser?
The WindingBall™ Dog Treat Dispenser measures approximately 4.7 inches in diameter, making it suitable for small to medium-sized dogs.
Question: What type of treats can be used with the WindingBall™?
It can be used with a variety of small treats, including kibble, small training treats, or diced pieces of dog-friendly fruits and vegetables.
Question: Is the easy to clean?
Yes, the WindingBall™ is easy to clean. It can be hand-washed with soap and water or placed in the top rack of a dishwasher for easy cleaning.
Question: Is the WindingBall™ safe for dogs to use?
Yes, the WindingBall™ is safe for dogs to use. It is made with durable, non-toxic materials that are safe for dogs to play with and chew on.
Question: Can the WindingBall™ Treat help with dog training?
Yes, it can be used as a training tool for dogs. It can help encourage positive behavior, provide mental stimulation, and teach dogs to use their natural instincts to hunt and forage for food.
Question: Can the Ball be used for aggressive chewers?
Yes, the WindingBall™ Dog Treat Dispenser is recommended for aggressive chewers or dogs that like to chew on toys.
Question: Can the WindingBall™ help with reducing dog anxiety?
Yes, the WindingBall™ can provide mental stimulation and help reduce dog anxiety by encouraging positive behavior and providing a distraction from stressful situations.