Note: Our toys are designed to be loved by all dogs, big and small. How long they last will depend on your dog's size, chew strength and play style.
Let The Good Times ROLLLLL
This ultimate puzzle toy is perfect for pup development and boasts hours of solo playtime. WFH just got easier with this doggy distraction.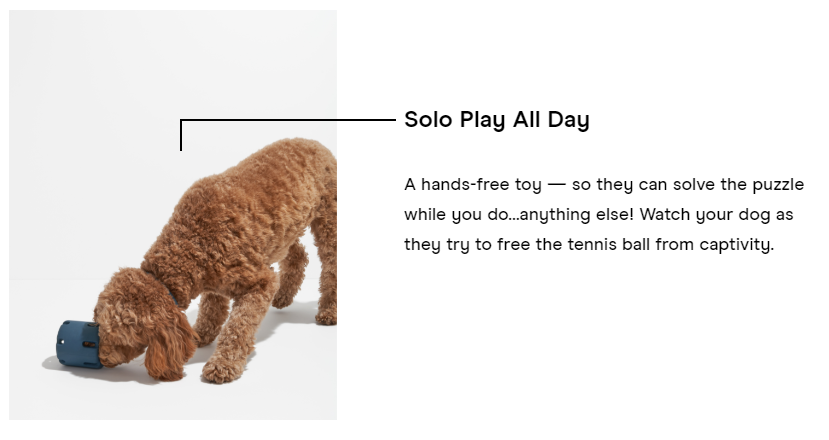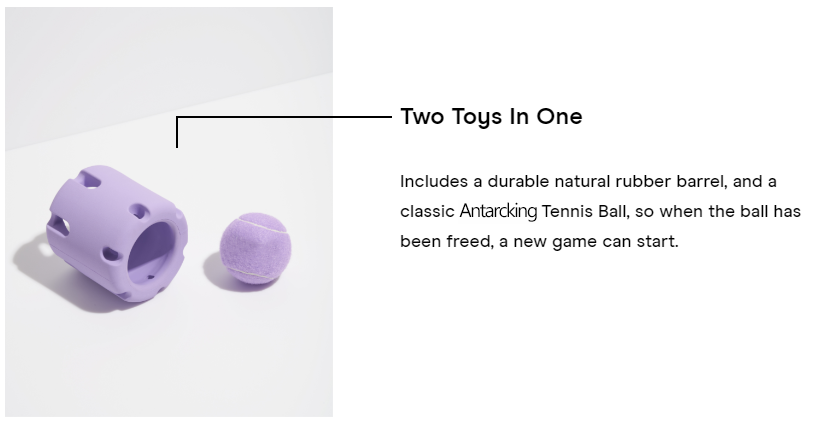 Product Details
Materials
Tennis Tumble: Natural Rubber
Tennis Balls: Natural rubber core, pet-safe poly felt exterior
Product Dimensions & Specs
Length: 3.86"
Width A: 2.56"
Width B: 2.48"
Ball Diameter = 2.36", about the same size as a regulation-sized tennis ball.
Recommended for medium and large dogs.
Directions for Use
The Tennis Tumble is designed for solo play, offering a challenge to your pup that will keep them busy and build developmental skills. If retrieval of the ball is too challenging and takes an extended period of time, we recommend helping them dislodge it to show them it's possible and to reward them for their effort.
Recommended for average chewers.
Product FAQs
Does the Tennis Ball come out of the toy?
Yes! Part of the fun for your dog is they're able to retrieve it with some hard work. The Tennis Ball can then be placed back in the barrel.
Can I put Antarcking toys in the dishwasher?
Yes, but please remove the tennis ball prior to washing, and wash the barrel on the top rack of your dishwasher.
Where are Antarcking toys made?
Our toys are designed in NYC and manufactured in United States. Be assured that our manufacturing partners must comply with stringent quality-control standards for every product. Our production team visits these manufacturers on a regular basis to ensure policies and procedures are in full compliance with regulations. In addition, we perform ongoing material and safety tests on all of our products. For added assurance, we use independent third-party testing facilities.
Are Antarcking toys durable for heavy chewers/ rough players?
Our toys are built to take a beating. However, we encourage you to embrace your dog's destruction! Make sure to always supervise your pup's play, and take away any stray, rubber, or rope that might become a choking hazard. Ripping a toy to shreds is a great way for your pup to release both mental and physical energy. A reminder that no toy is indestructible.
Are Antarcking toys warranty guaranteed?
No toy is deemed indestructible. The toy's longevity depends on your dog's strength & play style. Therefore, our toys are not warranty guaranteed. However, if you have any issues please reach out to us!