Soft padding, perfect size an extra security to keep your pup calm and cozy while driving. The perfect way to safely reduce pet car anxiety.
Keep Your Pet Safe
Stop your pup distracting you
Keep your pup calm and cozy
Machine washable
Built in leash for extra security

Drives In The Car Should Be Warm, Enjoyable, & Comfortable.
Not Only For You, Also For Your Dog
We've designed our pet seat different to others ours fits between the two front seats. right onto the center console/armrest. This ensures your pup is always by your side.
Cloud like padding inside the seat, your pup will be in heaven.
No longer worry about your pets anxiety in the car this is the perfect way to safely reduce its car anxiety. The seat is designed to securely fit in-between your centre console with durable adjustable straps. The seat fits most cars.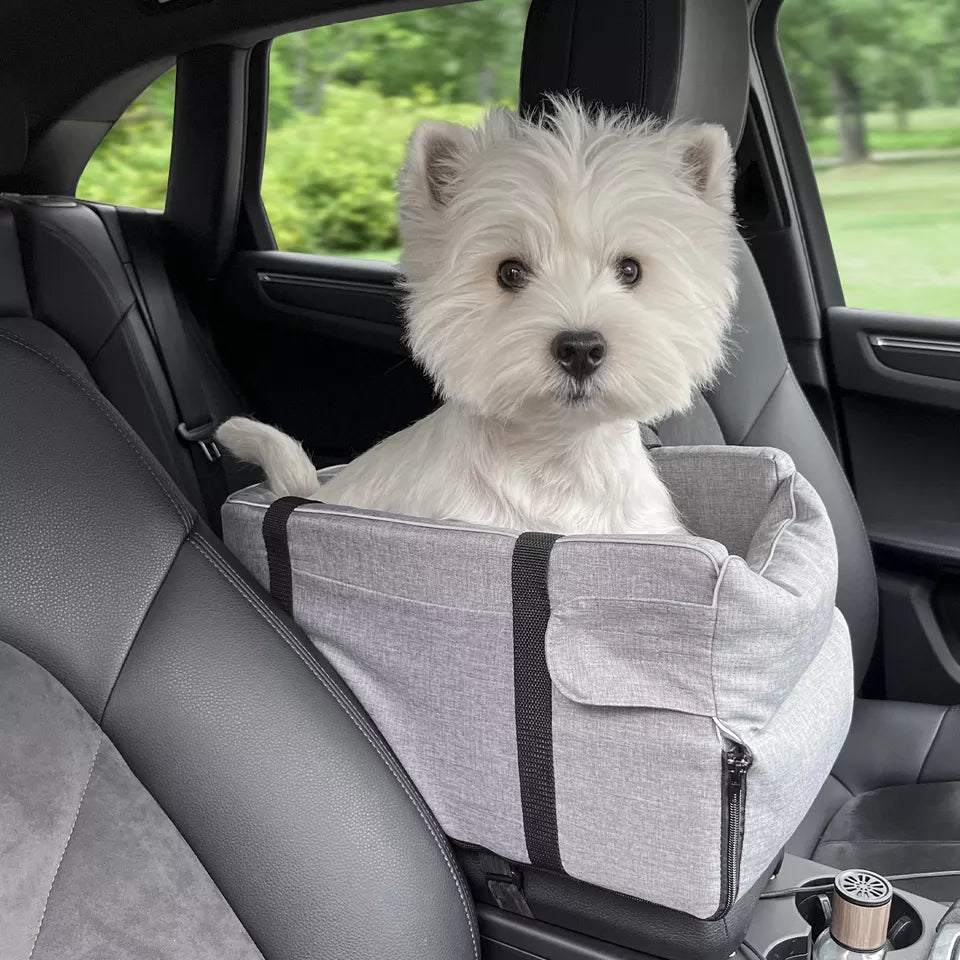 Designed Specifically For The Comfort Of Your Little Furry Friend
Soft Like A Cloud
Super-soft padding inside the seat will feel like a soft cloud, where the dreams are made out of endless belly rubs and treats.
No More Pet Anxiety
It's a perfect way to safely reduce pet car anxiety! The seat itself is secured to your center console so your pup is always by your side.
Leash Included
The seat has a built in leash for extra security to keep your pup safe at all times.
washable padding
The padding is removale and Machine washable making it easy to clean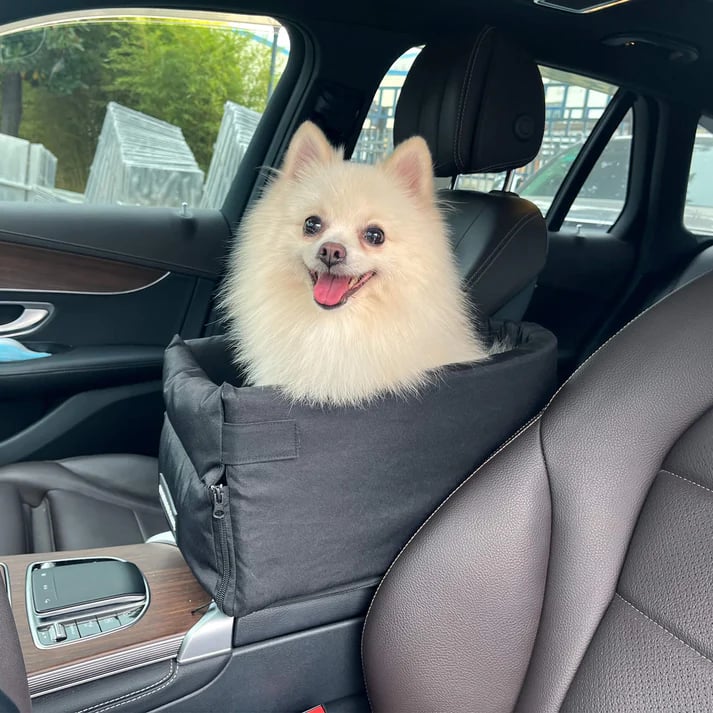 Dont worry about your little buddy jumping around with our built in leash
Oh and motion sickness? Gone, thanks to the unobstructed views the elevated surface provides.
DID YOU KNOW?
Around 40% of pets worldwide suffer from anxiety at some stage. Your pup needs to be close to you, especially in a car, as it's a totally different environment compared to a safe, familiar home.
Next time when travelling, have them safely carpool right next to you and let them feel more secure than ever before 🐶

What Pet Owners Like You Are Saying
DON'T JUST TAKE OUR WORD FOR IT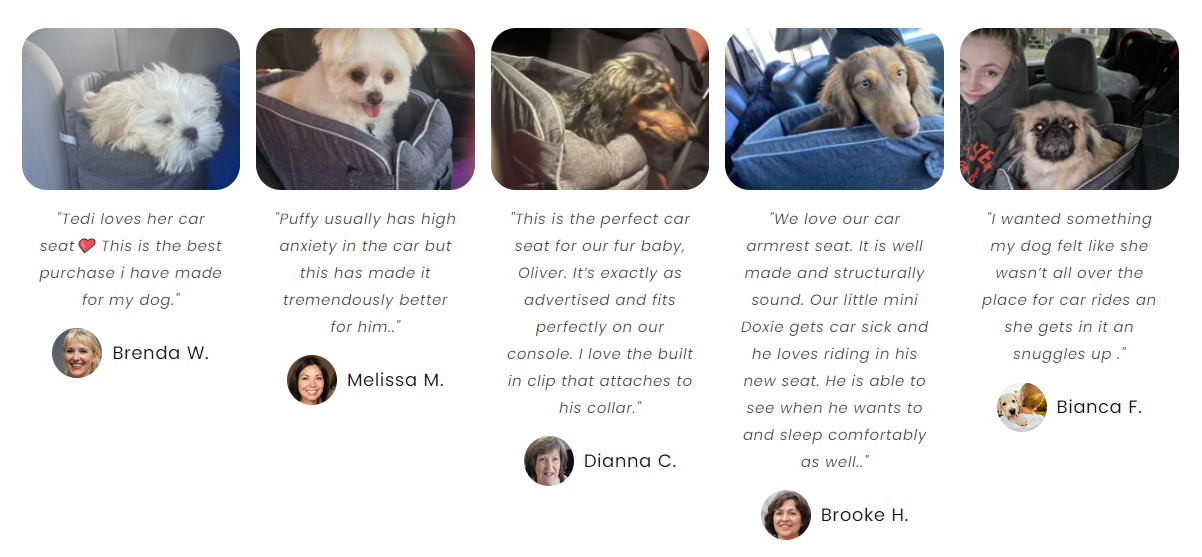 What Makes UTOPICA®PET Special

Your Pup Deserves The Best
We love our UTOPICA®PET Carpool Seat and are confident you will too! That's why we're offering a 30-Day, Risk-Free Trial. If you and your pup are not in love with your the seat, we'll give you a refund.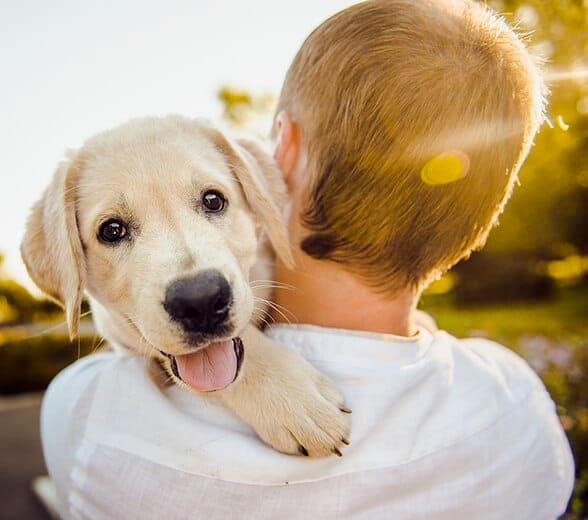 Questions? We've Got You Covered
Is the carpool seat safe to use?
Yes it's safe to use! The seat is attached to the car with straps, and inside the seat (under the soft padding) is a leash that attaches to the pet. We recommend attaching it to the harness.

We suggest familiarizing your pup with the seat by slowly introducing it to them outside of the car - we find that covering the seat with a cozy blanket or toy that your pup is comfortable with can help them feel more confident!
Will my pet fit?
Maximum recommended weight for The Carpool Seat is 15-25 lbs and length 18-19inches.

Make sure to weigh and measure your pet before placing your order.
Will the Carpool Seat fit my car/center console?
Our seat comes with adjustable straps, so it fits most cars. If you are unsure, you can measure the width of your car center console/armrest door.If the width of your center console door is less than 14", our seat will fit.
How is the Carpool Seat secured to the car?
The seat is secured to the car with adjustable straps. You can adjust the straps to loosen it or to make it tighter.
Do you offer a "Money Back Guarantee?"
We offer a 30-day return on all orders sold on antarcking.com. To initiate a return, please email support@antarcking.com.
All returns must be processed within 30 days of receiving your order. Shipping fees are not refundable (if shipping fees were initially covered by us, they will be deducted from the return payment). We do not charge a restocking fee.
How can I contact you if I have any further questions?
How can I contact you if I have any further questions?
If you have anymore questions before placing an order then please do not hesitate to contact our customer service team at service@antarcking.com and we will be happy to assist you.