The Most Reliable Way to Get Gap-free Fitting in Your Woodwork
With the Saker scribing tool, you can achieve professional precision in your woodwork for any type of fitting. The tool changes shape by a simple adjustment and locks into place for the most reliable scribing, especially for awkward and complicated edges. You won't even sweat it with Saker!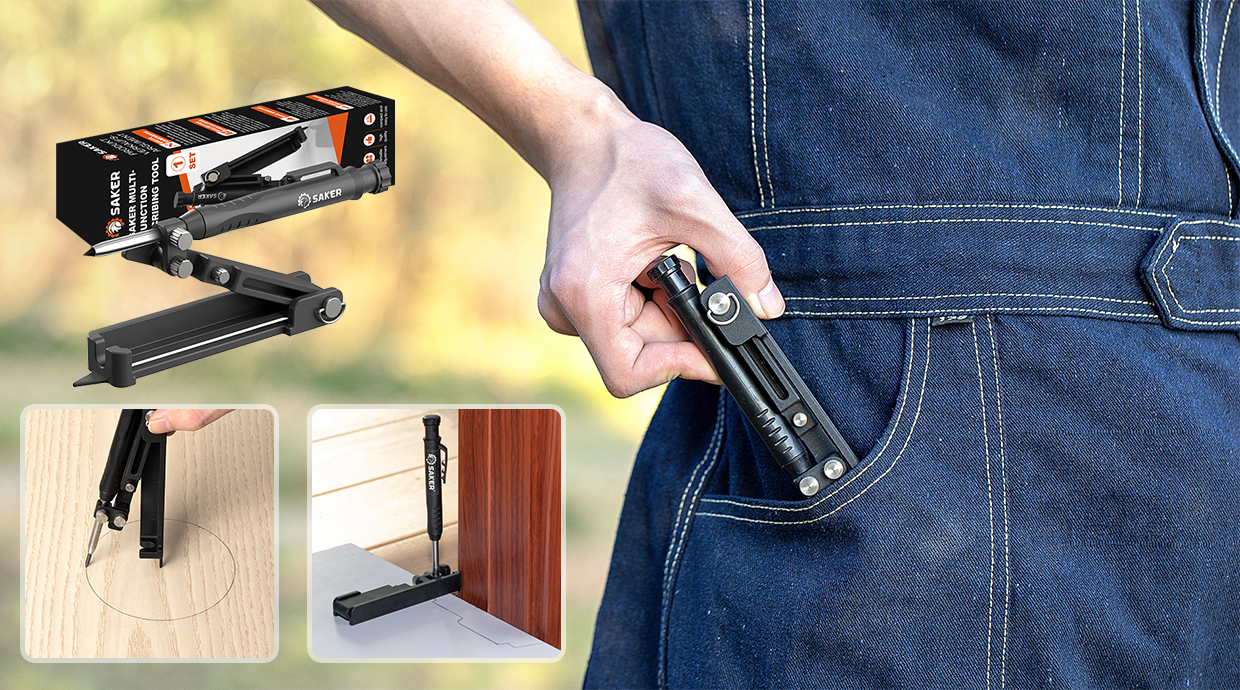 FEATURES
VERSATILE ADJUSTMENT - You can change its shape according to your needs, only need to change the tightness of the pencil holder and nut to achieve different shapes to complete the demand. It can be locked and fixed after each adjustment to ensure precision accuracy.
HIGH QUALITY - It is made of high quality with aluminum alloy, that surface is with anodic oxidation treatment, which could help to extend the service life of the product.
COMPACT AND EASY TO USE - The size of the product is very small, the weight is also very light, you can put it directly in your pocket. Its unique design of shirt trouser belt clip makes it easy to carry and storage.
WIDE APPLICATION - It is a multi-function tool with over 15 marking applications, including tiling and paving, stud walls, gables and paneling, in-fill panels, shopfitting, and built-in furniture.

Why do professionals only trust Saker?
DIY enthusiasts and professional construction crews around the USA praise Saker for their innovative, efficient design. Most other scribing tools make scribing awkward and cumbersome, often requiring multiple tools to do the job.
The Saker multi-function scribing tool combines all of your scribing needs into one convenient tool that fits inside your tool belt or shirt pocket. It is now easier than ever to make your work look sharp and clean.
| | | |
| --- | --- | --- |
| | Saker Multi-function Scribing Tool | Other Scribing Tools |
| 4 modes of scribing | | |
| Clear marking on all materials | | |
| Built-in deep hole pencil | | |
| Stable scribing | | |
| Precise reading | | |
| Durable aluminum alloy | | |
| Versatile movement | | |
| Gets it right the first time | | |
| Saves time from errors | | |
| Money-back guarantee | | |
Saker Multi-function Scribing Tool is Easy to Use



STEP 1

Adjust the tool for the type of markings needed by adjusting the tightness of the pencil holder and the nut.




STEP 2

Lock the new shape into place for a stable marking.




STEP 3

Steady the tool and put the pencil where you need to mark and easily trace the lines you need.
SPECIFICATIONS
Color: Black
Material: Aluminum alloy
Weight: ‎0.22 lbs
Size: ‎1.38 *1.2 *6 inches
PACKAGE
1* Saker Multi-function Scribing Tool
1* Deep hole pencil
1* Spare leads