Solution For: Sagging eyelids Excess creases Fine lines Wrinkles Discoloration
Skin Types: Normal Oily Combination Dry Sensitive
Formulated Without: Paraben Mineral Oil Phthalates Sulfates
Additional Information: No Animal Testing
HOW TO USE: Twice daily, apply a small amount to ring finger and gently tap onto eyelids to avoid tugging. Allow to set for 1 minute before following with other products.
INGREDIENTS LIST: Water, Cyclohexasiloxane, Dimethicone, Divinyldimethicone/Dimethicone/Phenylsilsesquioxane Crosspolymer, Polymethylsilsesquioxane, Butylene Glycol, Cetyl PEG/PPG-10/1 Dimethicone, Glycerin, Pyrus Malus (Apple) Fruit Extract, Isopropyl Palmitate (Derived from Renewable Natural Palm), Cyclopentasiloxane, Chenopodium Quinoa Seed Extract, Tapioca Starch, Propanediol, Dimethicone Crosspolymer, Crataegus Monogyna (Hawthorn) Flower Extract, Jasminum Sambac (Jasmine) Flower Extract, Diamond Powder, Zinc Gluconate, Magnesium Aspartate, Copper Gluconate, Portulaca Oleracea Extract, Chamomilla Recutita (Matricaria) Flower Extract, Camellia Sinensis (Green Tea) Leaf Extract, Cucumis Sativus (Cucumber) Fruit Extract, Sodium Hyaluronate, Euphrasia Officinalis Extract, Sodium Chloride, Phenoxyethanol, Disteardimonium Hectorite, Synthetic Fluorphlogopite, Caprylyl Glycol, Propylene Carbonate, Ethylhexylglycerin, Hexylene Glycol.
MONEY BACK GUARANTEE: We want you to love your purchase. That's why every product is covered by our 60 Day Money Back Guarantee. Try it for 60 days and if you're not completely satisfied, for any reason, send it back and we'll refund the full amount of your purchase, minus shipping.
Sagging eyelids? "Memory loss" study might prove why
How often do you walk into a room and ask yourself, "what was I about to do next?"
It's a well-known fact that your memory fades with age…
But did you know your memory impacts how old you look?
This might sound strange… but just like every person deals with forgetfulness as they age, your skin cells can "forget who they are".
And these 'forgetful skin cells' happen to be key players in youthful-looking skin.
You see, while studying these cells, researchers noticed them losing their natural shape with age.1
Which might not seem like a huge issue.
But here's the scary part… once they lose their shape… they forget what they're supposed to do next.
And when you have stagnant, inactive skin cells, you get thinning, sagging, wrinkled skin.
This decline quickly works its way from the most delicate skin on your face, all the way to the densest skin on your arms and legs...

And unfortunately, it usually drags your self esteem down with it.
Thankfully, I've discovered a simple technique to help your skin cells remember (and get back to) their job.
It's already helped hundreds of women rejuvenate their skin to a lifted, firm, youthful state — giving them back their lost confidence.
And today, I'm going to tell you all about it…
So that you can take decades off your skin, and fall in love with your reflection.
But before I tell you what it is, I have to ask you a question:
Do you know what the most common instruction is on a skin care product?
"Avoid upper eye area"
And if you looked in your skin care drawer right now, I bet you would read this instruction on not just every product you own, but every EYE product you own.
This is a huge problem — because the products you trust have been directing you to neglect the most delicate, damage-prone area of skin on your entire body:
Your eyelids.
I know this sounds backwards, but as it turns out most eye products aren't equipped to treat the eyelid.
It all comes down to a lack of research and development in the skin care industry that's been bothering me for years.
And most brands find this area of skin too challenging to treat… so they sidestep the problem, hoping you won't notice.
You see, your eyelids are made up of the thinnest, weakest skin on your entire body.
With almost zero levels of supportive, subcutaneous fat, this area relies heavily on one thing to keep it firm and lifted:
Collagen — The structural protein that acts as a set of pillars to "hold up" your skin.
Unfortunately, studies have shown that by age 30, your collagen levels begin to decline by 1-1.5% each year.2
This means by the time you're 50 years old, almost half of the collagen you made in your first 30 years is totally GONE.
So, in order to address this problem, and help you look more like the energetic 30-year-old you feel like on the inside, I needed to answer 2 important questions:
1.
What's happening to the collagen in your eyelids?
2.
Is it possible to get that collagen back?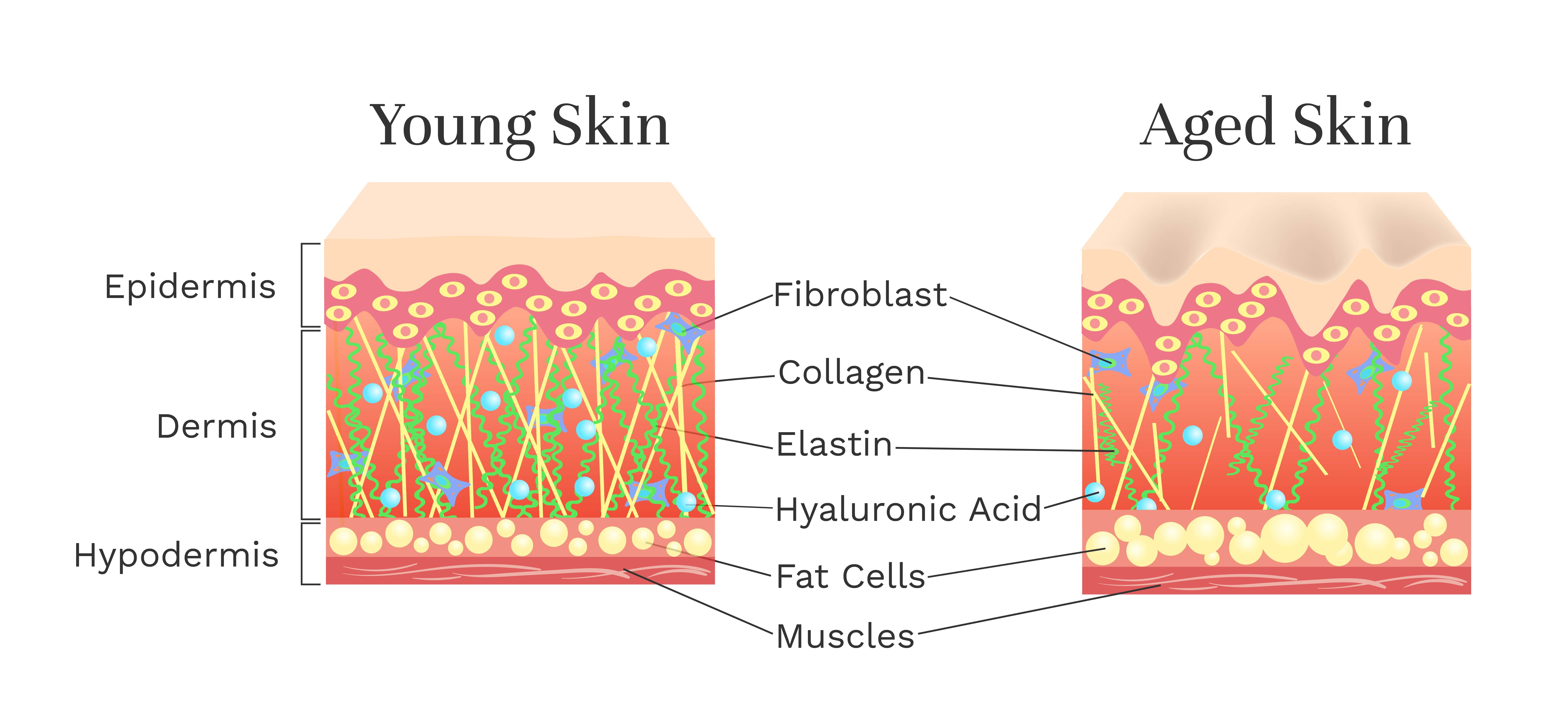 Remember when I said your cells forget who they are?
Well, the cells in question are extremely important players in skin aging — Fibroblasts.
Fibroblasts are the most common, and arguably most important, type of cell found in the connective tissue in your skin.
And their main job is to secrete collagen that creates a "structural framework" to keep skin lifted and supported.
Here's where things get interesting.
In 2018 a research study found that as fibroblasts age they begin to look more and more like shapeless fat cells.3 When this occurs, they stop producing collagen… And literally forget their purpose.
Now, as I mentioned earlier, collagen is essential to prevent your eyelids from collapsing.
And this ground-breaking research gave me a huge piece of insight:
If I could just help your skin "remember", then you could regain a youthful look, right?
I thought this piece of information was all I needed — until I stumbled across more mind-blowing research regarding your skin's structure…
Studies say by your 30th birthday, your skin is also under attack by a process called Glycation.
Glycation is the process where sugar molecules bind to collagen and cause them to weaken and break down.
So not only does your skin stop producing new collagen, but the collagen that's left is being corroded away.
Now, eating refined sugar plays a huge role in shrinking your collagen levels — increasing the rate of glycation by 10x.
So, how do we fix this?
Yes, you could avoid sugar…
But that means skipping birthday cake, never eating another pancake brunch, or passing up that piece of tiramisu on vacation.
And I don't believe you should have to skip out on life in order to have lifted eyelids.
Unfortunately, As I mentioned before, there are so few options to solve this "instant-ager".
Causing many people to resort to painful, expensive procedures…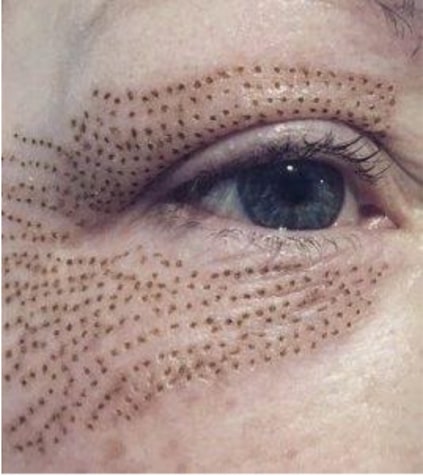 There's the Eye Lift — the 4th most popular surgery in the US — which costs thousands of dollars, and takes weeks of recovery.
Or Lid Threading — where painful, temporary threads are inserted to pull back your skin.
And then there's the least invasive procedure: painful laser treatments, that burn the skin, like this one:
Now, I've worked with surgeons and doctors to learn about how each of these procedures work:
If you lift your lid, you remove the skin
If you thread your lid, you stretch the skin (and it doesn't last)
But if you endure being burned hundreds of times with a laser, then you can help "reset" the memory of your cells — helping them remember their purpose
So I started thinking…what if there was a way to reboot your fibroblasts' memory without shooting laser beams at your delicate eyelids?
I reached out to every contact I have in the industry, and they each told me the same thing:
This skin is almost impossible to care for with topical products — and this incredible challenge has proved to be a serious problem in the industry.
Often products are too heavy and dense with oil, causing them to slip off or weigh down the lid even more.
Or they're too aggressive and cause irritation or damage.
And although I knew the root cause of sagging lids, and how to fix them…
I also knew that even if I found the most powerful lifting ingredients known to man, they'd be useless if you couldn't safely and comfortably wear them on your eye area.
Unfortunately, ingredients like this are few and far between, which is why it's so difficult to build a solid eyelid formula.
And after almost 2 years of searching for a solution, I thought I had officially reached a dead end.
That is, until a genius formulator (and one of my greatest mentors) Jessica, reached out…
She had been working on a solution to help boost collagen for lifted, firm-looking skin — and it was specifically designed to be delicate enough for the eyelid.
After seeing the results of this landmark test, she said her findings were just too incredible not to send over.
And I was so excited I almost fell out of my lab chair.
The incredible lifting solution was a unique combination of Hawthorn and Arabian Jasmine Extracts.

And it was designed to do the exact two things that I had been searching for:
1.
Trigger Cell Memory. This compound directly targets your fibroblasts to kick collagen production back into gear — giving a structural lift to your lids.
It was so effective, one study saw an increase in collagen synthesis by a whopping 115%.4
2.
Block Glycation By fending off toxic sugar molecules that destroy your collagen, it protects the structure of your lids for a tighter, firmer look.5
A study saw a 27% increase in lifting compared to the control — after just 28 days.6
And 60% of those volunteers reported an obvious lifting effect on their lids.7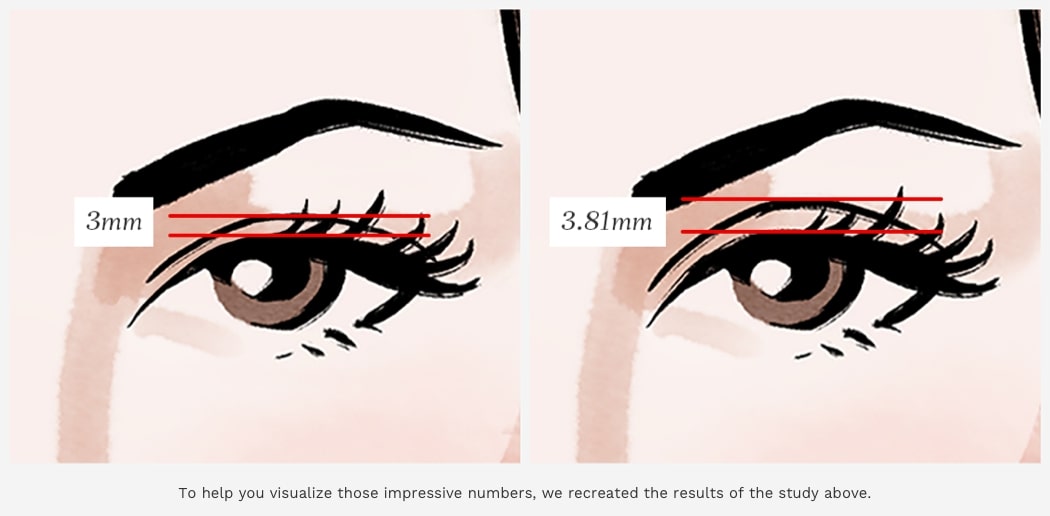 To help you visualize those impressive numbers, we recreated the results of the study above.
Not only could you see almost double the surface area on the lids of the study volunteers… but their eye areas looked fresher, younger, and more wide awake.
Now, I had discovered the ultimate lifting extract blend that checked off each box for restoring structure to aging lids…
But I was determined to do more.
I wanted to create a formula that would act as a total-package eyelid rejuvenator.
So I continued with my research.
It was just a month later that I thought of something a surgeon told me about eyelid lifting surgery…
According to industry data, the buildup of fat cells is a huge problem for aging lids — with the added weight causing sagging and drooping.8
Which is why accumulated fat removal plays a huge part in lid lifting surgery.
So, I found a way to support lid structure, but what if I could also take that extra weight off without surgery?
That's when I was reminded of an ingredient presented to me at the beginning of my search…a unique form of an ancient grain known as Quinoa Seed Extract.9

It's designed to stimulate something called "Adipocyte Lipolysis" on the eyelid.
Which is the scientific term for: breaking down fat.
Plus, this extract also supports the natural structures of the skin to minimize eyelid creases and folds.
It's shown to be so effective at lifting, after a 28-day study, the appearance of eyelid folds decreased by 13%.10
Finally, I felt like I had everything I needed…
That is until I remembered just how delicate your eyelids truly are.
And even if I created something to "rebuild" them, all of that work could be undone if this solution didn't protect your skin.
I reached out to Jessica again — hoping she would work her magic — and she came back with something I had never even heard of before.
They called it Energizing Mineral Blend, and it was exactly what I had been hoping for.
It's designed to defend your lids from free radicals and external stressors to help prevent future damage.11
But that's not even the best part…
It also helps boost the effects of other active ingredients — by providing skin cells with the energy they need to function at their best.12
Can you imagine how dramatic the results could be if this was paired with our other two show-stopping ingredients?
Well, I was ready to find out.
So, we gathered a group of 23 women ages 54-72 to test out the formula twice a day for 12 weeks.
What we noticed immediately, was how equally comfortable and effective this formula proved to be.
Within their first application…
92% said their eyelids felt firmer
92% said their eyelids felt more hydrated
92% said the skin on their eyelids felt more taut
And 100% of users said they would recommend this product to a friend — that's every single person!
These instant results were so huge for me and my team, and exactly what we had been hoping for.
But the real excitement came at our next check in — when we saw their lids had visibly lifted and transformed.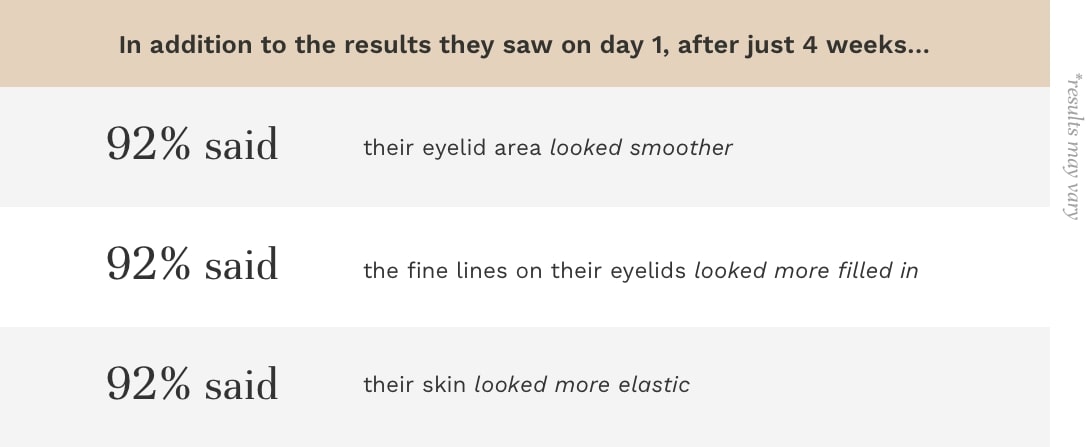 Fabulous, right?
These changes were obvious to everyone involved in the study.
But we had been patiently watching, waiting, and hoping for these results…
So, it was even more impressive when our users shared how friends and family, who had no idea about our study, were noticing their improvements.
One woman, an actress, even said her makeup artist commented on how youthful she had been looking lately!
But more important than the cosmetic results, you could see just how confident this trial was making each of our volunteers feel.
And in my opinion, that's the cornerstone of great skin care...
Looking so good on the outside that you can't help but smile bigger, stand taller, and feel like your most beautiful self.
Which is exactly why I decided to create this formula.
Because I was tired of watching people just like you suffer from this stubborn, confidence-sapping skin symptom.
And after years of in-depth research and intensive lab-testing, I'm so excited to introduce to you…
Check out what a few of our trial volunteers have been saying…
Karen L. (Age 60)


"There is no doubt that when I look better I feel better. It can make an okay day a little bit brighter for me, especially when my makeup goes on so smoothly since my eyelids are taut and firm. It feels fabulous to see improvement in my skin, especially for someone my age (60 years old)!"
Karen S. (Age 51)


"This product is unlike anything I've tried before as in it targets those of us with saggy, hooded eyes and it can really make a difference in how you look and FEEL. Seriously, just [seeing] that lift when I put the product on gives ME a lift inside. I feel like I have a product that is working to help me present my best me."
Sheila H. (Age 57)


"I love how bright my eyes look. I also love that my lids are not overlapping as much as they were. I've already been asked what I've done to my face by a makeup artist, who has been working on my face for the past 6 months… this product has given my eyelids a boost that I didn't think was possible without surgery."
As I said before, this formula is packed with powerhouse ingredients to create lifted, firm, and smooth-looking lids.
But on top of delivering potent actives, it's also designed to cling to the eyelids, while blurring and perfecting lines and wrinkles — all without weighing down the lid.
Plus, it stays on all day, to lift and smooth skin for hours.
So you can feel like your most confident, beautiful, youthful self, from the time you wake up until you go to bed.
Building your best skin takes time, consistency, and a bit of patience…
But I know how it feels to look at your reflection and wish you could just snap your fingers to bring back your younger self.
So, while you're waiting on the potent active ingredients of Lid Lifting Treatment to correct stubborn sagging and drooping…
These instant perfectors will give you a more youthful look with your VERY FIRST application:
Diamond Powder: Made of light-reflecting particles, this luxurious ingredient instantly diminishes the look of fine lines and wrinkles by giving the skin a diffused, "soft-focus" effect

Blurring Microspheres: This high performing, spherical silicone powder provides an optimized light diffusing effect that helps correct the appearance of wrinkles

Flexible Polymer Blend: This flexible polymer blend helps instantly reduce the look of fine lines and wrinkles.

Now, if you've read this far, thank you! I'm sure you must be wondering how you can get your hands on Lid Lifting Treatment.
After all, it's almost impossible to find a formula like this — one that lifts, supports, and instantly perfects aging eyelids.
And if you've been a Antarcking fan for some time, I'm sure you know how committed I am to creating formulas that deliver the skin of your dreams, while being nourishing.
Which is why it took me almost 3 years and 7 different formulations before I reached this final product…
You see, this formula is crafted with some of the most sought-after active ingredients in the industry (one with an eight-month-long waiting list).
And even once we found the ingredients we were looking for, it took tireless effort with several different chemists until we found the perfect balance of nourishing ingredients, weightless texture, and visible results.
Now, I could've priced this treatment at $250 — considering the time, energy, and ingenuity that went into it…
And honestly, I don't think many people would've bat an eye before buying.
Especially since most other options are painful surgical procedures that cost thousands, or overpriced creams that weigh down your lids instead of lifting them up.
But I also believe that looking your best is something that should be available to everyone.
Because it's not just about looking good on the outside, it's about feeling incredible on the inside.
So, you won't come close to paying that $250 price tag today.
I'm so excited to say that after months of negotiating with our labs and manufacturers, I found a way to bring the price down to just $49.99.
But you won't pay that price to try this out today!
Today, you can order Lid Lifting Treatment for just $28.99— with even deeper discounts on multi-tube options!
Remember, this formula isn't just a solution for aging, sagging eyelids…
It's a chance to bring back a piece of that person you used to be 20 or even 30 years ago.
The one that felt confident, energetic, and full of life.
Because if you order today, soon you'll feel a bit more like "age is just a number" — and time won't be able to bring you down.
Just picture one month from today, after diligently using your Lid Lifting Treatment…
You walk into a lunch date with your best friend, and she says, "there's something different about you… you seem younger somehow."
The thing is, you didn't dye your hair, lose any weight, or make any changes at all…
Later, you'll look into the mirror and realize your eyes are a little bit brighter, your eyelids look lifted and firm, and your entire face looks more "awake".
The best part is, you'll be looking and feeling your best, while barely changing your daily routine.
I can't wait for you to experience this simple, but transformative formula.
Because it's about to enhance your natural beauty, and elevate how you feel.
Stay Beautiful,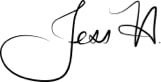 P.S. If you're unsure about purchasing this ground-breaking formula today, I want to let you in on a little secret.
Clicking that "next step" button is simply the gateway to starting your Lid Lifting Treatment Trial.
You see, if you're unhappy with this product for any reason whatsoever, you have an entire 60 days to let us know.
Then, all you'll have to do is reach out and we'll send you your money back.
So you don't have to feel pressured or committed to loving this product…
Although, based on the glowing reviews it's gotten already, I have full confidence that you'll end up reaching out to ask for MORE.
Get your tube of Lid Lifting Treatment for just $28.99.

Frequently Asked Questions
Q: How does Lid Lifting Treatment work?
A: Light-diffusing polymers instantly smooth the look of fine lines while powerful botanical extracts nourish & hydrate to reduce the look of droopy, wrinkled eyelids long-term. The result is a visible lifting, tightening, & firming effect.
Q: Can I use Lid Lifting Treatment with makeup?
A: Absolutely! It creates an instant smoothing effect, perfect for makeup application. But it also works long-term to hydrate and help reduce the look of sagging & wrinkles. So, with or without makeup, you'll see a firm, lifted, young look on your lids. Before applying under makeup, let it absorb for at least 60 seconds.
Q: Do I need to use another eye cream with Lid Lifting Treatment?
A: This formula helps your upper lids look firmer, tighter, & more lifted without an additional eye cream. But for a total eye area transformation, we recommend pairing it with an under-eye treatment like Eye Revive Firming Serum or Under Eye Recovery.
Q: Is Lid Lifting Treatment suitable for sensitive skin?
A: Yes. Lid Lifting Treatment is suitable for all skin types, including sensitive skin. However, if you have sensitive or allergic skin, it's always recommended to do a patch test first before trying any new skincare product.
Q: How do I use Lid Lifting Treatment?
A: Twice daily, apply a small amount to ring finger and gently tap onto eyelids to avoid tugging. Allow to set for 1 minute before following with other products.