DESCRIPTION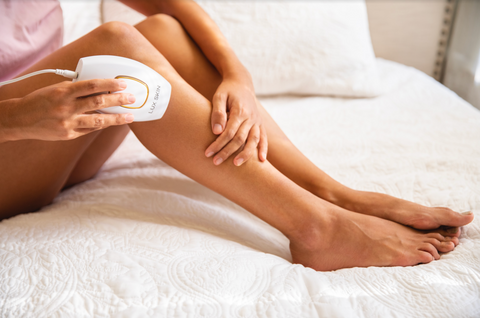 The worlds BEST selling IPL Laser Hair Removal Handset, and the LOWEST price!
Are you tired of constantly waxing or shaving? Don't want to deal with strawberry legs anymore? Then, Antarcking® IPL Laser Hair Removal Handset is what you need!
Antarcking® IPL Laser Hair Removal Handset is World's #1 selling IPL Handset! And for all the right reasons.
Our IPL handset will have you hair-free in just weeks; no more shaving, waxing, or threading!
PRODUCT BENEFITS >
Clinical Grade Technology - You can achieve safe and pain-free hair removal at home.
Automatic Skintone Selection - Suitable for all skin tones and hair thicknesses.
Best for Your Whole Body - You can do any part of your body, including your Face and Brazilian, in just minutes.
No Hidden Costs - No need for replacements or refills, ever.
Affordable - If saving money on your salon trips wasn't enough, this is also the most affordable IPL device in the market.
Quick and Permanent - Get rid of unwanted hair permanently in just weeks!
BEFORE & AFTER >
1 week after shaving, with no IPL use VS
12 weeks of IPL use (1 session per week)

HOW IT WORKS >
IPL (Intense Pulse Light) laser hair removal is a safe, non-invasive treatment that permanently reduces the number of regrowing hairs. It targets certain pigments in your hair, making it effective even for the darkest hair.
Antarcking® IPL Laser Hair Removal Handset uses 300,000 light pulses to damage hair follicles and impair their ability to grow hair. The handset effectively eliminates the damaged hair follicles for long-term results.
WHAT SKIN & HAIR TYPES CAN USE IPL?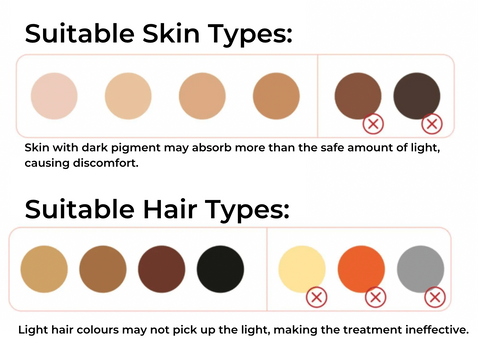 DOES IT HURT?
No, our IPL is 100% safe and pain-free! It's described as a warm sensation. The higher levels will feel more intense but nevertheless, it's not painful!
HOW LONG UNTIL I SEE RESULTS?
For permanent hair removal, the suggested use is 1 x weekly, for 12 weeks. After this, you will only need to do a maintenance session every couple of months.
WHY IS IT SO CHEAP COMPARED TO OTHER BRANDS?
That is the Antarcking® difference! We don't have super high profit margins, we put the customer first.
In most cases our products are made in the same factories from the same materials as brands that sell for at 2-3x higher prices!
SHIPPING & RETURNS
Shipping Policy
• Free shipping on orders $39.99
• Please allow up to 2 business days for processing before your order ships.
Estimated Delivery Times
• Prior delivery: 3-7 business days to arrrive.
• Standard delivery: 8-15 business days to arrrive.
*Please note, estimated shipping times are not guaranteed.
Return Policy
• Antarcking will accept exchanges & returns within 60 days of receiving.
• Clearance products, free gifts, bras & underwear are not eligible for return policy.
• Items must be unworn and unwashed items in their original condition and packaging. We simply ask that you try it on OVER panties or undergarments.
• In most cases, we can only process one return or exchange for each order. For your benefit, please carefully consider all the products you need to return.