FREE Gift included - Get our collapsible travel dog water bowl for free with your purchase of our Dog Safety Belt!
Don't settle for ordinary seatbelts made of low-quality materials and designed without veterinary input. Ensure the ultimate protection and well-being of your beloved pet while on the road. 23 our of 25 dog seatbelt brands failed the test!
Introducing the Dog Safety Belt 2.0 - the best and safest dog seatbelt on the market today! While other dog seatbelts claim to be safe, we've gone the extra mile to ensure the unparalleled protection of your furry friend.
Building on the legacy of our previous best-selling dog seatbelt, we've listened to our customers and made improvements to create an even better and safer seatbelt, designed to keep your furry friends safer than ever.
Our 2.0 Safety Belt features:
- Advanced Shock-Absorbent Technology: Designed to cushion sudden impacts and distribute force evenly, keeping your dog secure and minimizing injury risks.
- Vet-Approved Ergonomics: Meticulously crafted in collaboration with veterinary experts, our seatbelt prioritizes your dog's comfort and well-being while ensuring maximum safety.
- Robust Materials & Craftsmanship: Made with premium, heavy-duty materials and reinforced stitching, our seatbelt boasts a longer lifespan and unwavering reliability, no matter the adventure.
- Universal Compatibility: Our adjustable design fits all dog sizes and is compatible with most vehicle models, ensuring a perfect fit and hassle-free installation.
- Rigorous Testing & Certification: Unlike competitors, our seatbelt has undergone rigorous testing and certification to guarantee top-notch safety standards for your peace of mind.
Any unleashed car ride poses a risk to you and your dog...

Every day, thousands of dog owners drive around with their pups in the car. The dogs run up and down the seat backs, climb over the seats, and crawl in and out of the driver's lap. In the event of a collision, this can be extremely dangerous not only for the dog but for all the other occupants of the vehicle.

We know what it's like to want to take your dog with you wherever you go. When you get in the car, the first thing you do is fasten the seat belt over your lap. But what is there to restrain a dog in the event of an accident?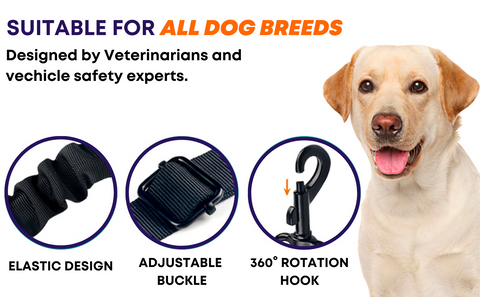 The world's best selling seat belt for dogs in the car
The Dog Safety Belt is a groundbreaking new invention that protects your dog in the car. One end of the Safety Belt easily clips into any standard seat belt slot. The other end clips into your dog's harness.

The result: with the Safety belt, your dog is safe, comfortable and under control while you can drive without distraction or interference. After all, you wouldn't let an unleashed toddler ride in the car either - so why your dog?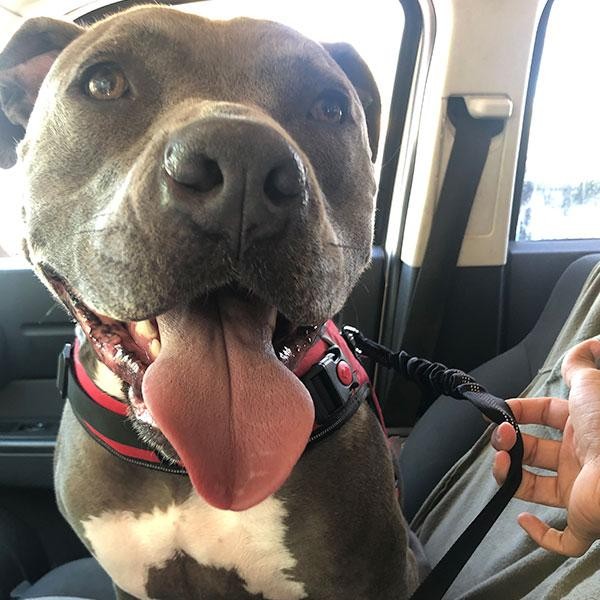 What do you get with our versatile car seat belt...
Tested and proven: The dog safety harness has been tested by 100,000 dogs around the world and counting.

High-quality materials: Each safety harness is made of sturdy fabric.

Adjustable: our safety harness is adjustable from 53 to 74 cm and features bungee cord construction to reduce shock during sudden impacts.

Rotating Head Buckle: The 360° buckle prevents your dog from getting caught in the leash while moving around on the seat.

Suitable for any vehicle: Since our car seat belt uses the normal standardized car seat belt buckle, it fits most small cars, SUVs and trucks.


14-Day Money Back Guarantee
We are so sure you will love our product that we guarantee every purchase 100%. You bear no risk whatsoever. If you are not completely satisfied, simply return the product to us within 14 days of receiving it and we will refund you in full without questions. Check out our refund policy for more information.